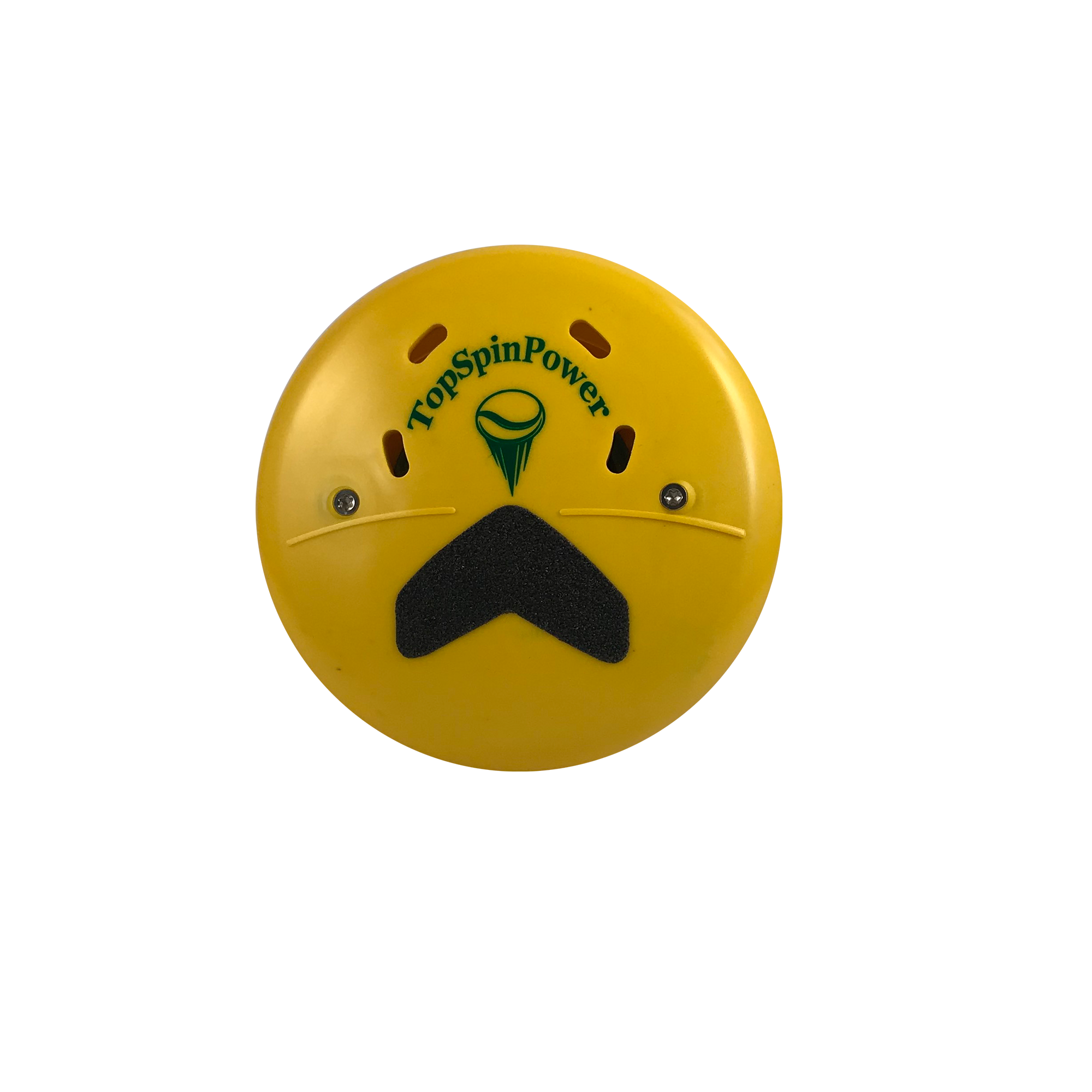 Description
Specs
Shipping/Returns
A Better Stroke is just a "Click" Away

Top Spin Power is a tennis training aid that "Clicks" when your weight shifts forward during the tennis stroke. The stroke sequence actually starts with the lower body, specifically the hips. As your weight shifts forward, the hips start turning toward the front foot. The upper body is also turning forward, but slightly behind the hip turn. This lag creates racquet control and power.



Top Spin Power Improves Swing Sequence

The basic swing sequence for most shots begins with the lower body. The legs and hips start the tennis stroke with the body turning, while at the same time moving toward the front foot. Top Spin Power notifies the player when weight has shifted forward by the "Click", creating the muscle memory needed to replicate the swing sequence automatically.




Easy Way to Improve Stroke

Top Spin Power is ultra-portable and very easy to use. Simply place the device under your lead foot with the arrow shaped grip tape pointing toward ball flight direction. As your weight shifts forward, the "click" will give you instant feedback that you are shifting your weight correctly. As you repeat the process, you will develop a technique to replicate on the court.




American Made Tennis Swing Trainer

100% made in the USA, the Top Spin Power is built with high-strength injection molded polycarbonate plastic, rust-proof stainless steel screws, long-lasting steel springs, and weather-resistant grip tape.




Great for Tennis Game Warm-Up

We designed and built our tennis training aid so that it will provide you years of training service. While your tennis game will improve immediately with the Top Spin Power, it is a great tennis warm-up tool. Our hope is that your long and successful tennis career can always be supported through use of your Top Spin Power training aid.

As you begin to see results, please share the benefits of Top Spin Power with all of your tennis community. We are confident that this tennis training aid can be a great help to all players.






Backed by our Ten Year Promise & the "Click It" Challenge

Although our product has been field tested and proven durable, we will replace any Top Spin Power that is damaged or broken within ten years.



Our Click It Challenge is a 60-day money-back guarantee. If the Top Spin Power does not improve your tennis game within 60 days, send it back to us for a full 100% refund.

| | |
| --- | --- |
| Size | 4.25"-D x 0.75"-H (about the size of your palm) |
| Weight | 5-oz (same weight as a baseball) |
| Materials | High-Strength Polycarbonate & Stainless Steel |
| Where It's Made | Knoxville, TN (USA) |

Shipping Policy

Here's when you can expect to get your Top Spin Power after you place your order.


| | |
| --- | --- |
| Ship To Location | Estimated Delivery Time |
| Within the USA (Free) | 2 - 7 days |
| International ($8.75 USD) | 7 - 21 days |


We ship all orders same-day (provided it's Monday through Friday and not a holiday or we're being invaded by space aliens).

We want you out there improving your tennis game, not waiting for the mail to arrive! For our full shipping policy, please visit our Shipping Policy page.



Returns Policy

Please visit our Return and Refund Policy page to learn about returning your Top Spin Power (not that you'd ever want to do such a thing!).

If you're ever not satisfied with the Top Spin Power just let us know and you can return it for a full refund.

Once we receive your returned Top Spin Power, you'll be refunded in full within five business days (holidays and invasions from space aliens withstanding, of course).